Hi everyone! Hope you all had a great weekend! I wanted to take this time to welcome my new followers and thank you all for your encouraging words. They mean so much to me... truly!
I'm so excited to be guest blogging at
Days of Chalk and Chocolate
. Thanks to Jenny for asking me!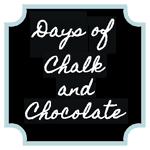 If you haven't visited her blog, you must!
She is a super sweet lady, has great tutorials and has featured several new bloggers... like me!
I'll be back soon to show you some new projects I've been working on.