Hi again! Remember this clock I purchased at Goodwill SEVERAL months ago? Well, I finally finished it and have it hanging in our new master bathroom. I had to do some minor mechanical work... change out the gears, add new black hands (I originally had gold ones, but could never make out the time).
Here it is before in its rusty red state...
I spray painted it with Rustoleum's Heirloom White...
After about 3-4 coats and waiting overnight for it to dry, I decided to lightly apply Ralph Lauren's Smoke Glaze to make the details stand out.
Yes, it's almost one in the morning! What can I say, I'm a night owl!
We (I) desperately needed a clock in the bathroom to help me stay on time in the mornings. I love it! For just $2.99 and $5 for new gears, I turned this:
Into this:
I'm linking up to: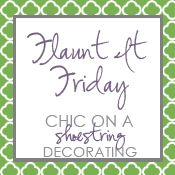 and